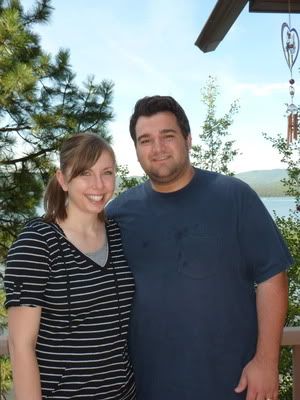 Ok, you know I have to add my two cents about our awesome trip. And of course pictures. Josh did do an amazing and quite poetic job of describing our trip though, so I don't have too much to say.
I feel like we are getting to be pros at traveling with a baby. Well I guess the main thing that has made it easier is giving the boy bottles rather than the boob. I totally miss nursing him but he's decided he's getting too old for it I guess and he just started weening himself off. ANYWAYS, we had a thermos with hot water that we could warm breastmilk in or make formula with. I just stuck my arm back there and fed him while he was in his car seat. So slick. He really didn't slow us down at all.
Hanging out with my grandparents was just so wonderful. Of course my favorite part was how much they loved to be with Morgan. My Grandma got down on the floor to play with him and everything. I loved that! They both had a lot of fun with him. I wish I would have gotten a picture with them. Man. Next time.
My mom happened to be in Montana at the same time, visiting her mom in Bozeman- my other Grandma (who is also a stellar person- I'm a very lucky grandchild). Mom came up to see us for a night on her way back to Washington. I was SO glad I got to hang out with my mom for a little bit too.
As Josh said, we did get to see some bears on our little outing to West Glacier. I wish I could say they were legitimately wild, but that would be a lie. We went to this place where we could drive around amongst black bears- I think it was called "The Great Bear Adventure", or something like that. It's a step up from the zoo because there aren't any cages, they walk on the road by your car. I had actually been there before years ago, and I remembered it being fun, so I wanted to go with Josh. He was pretty nervous, haha, but we really enjoyed it.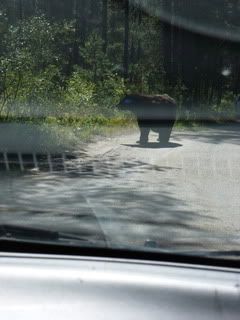 Here's Josh masking his fear with a smile-
(The bear is that black blob in the trees)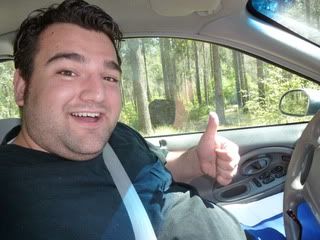 So we stopped at this place on the way to Glacier. We planned on hanging out at Glacier for an hour or two then heading back to Grandma and Grandpas. They were kind enough to watch Morgan while we went on this awesome date. The thing is, we didn't realize how spendy getting into the park was- $25! Since we were only going to stay a very short time, it wasn't worth it. Plus, we missed Morgan. (We kind of love that kid. A LOT.) So we turned around but stopped and got some huckleberry pie to make our Montana cultural experience more complete.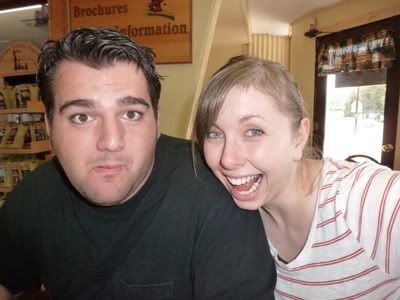 It was yummy.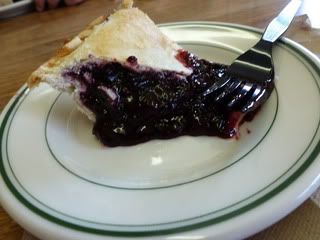 Remember how I said I didn't have much to say? I know- lies.
But pretty much we had a great time.
Morgan started some new tricks there like crinkling his nose and more kinds of squeaks and squawks.
I would also like to mention the s'more with Reese's are delicious- my grandparents are geniuses!
Here's Joshie and I on the boat~
Me and Morgan in the token place on the deck. Isn't he HUGE?!