It's not really August, right? Tell me it's not. I mean I'm cool with fall and everything- I actually love fall- but it's just that the past.. oh, 6 months (and 5 days), have gone by SO fast. It was February in my head until about May. I hear that's somewhat normal for new moms though, so hopefully I'm not going TOO psycho.
Another reason why this summer has gone by so fast is that Josh and I have stayed really busy. We went to Washington (<3) in May to get the boy blessed and visit family, and then last month for Josh's brother Joey's wedding. Going home to Washington is a wonderful thing- we LOVE our family and all. And they sure love Morgan... and us too I guess :). But going home can sure be hectic. Being married to someone from the same hometown should make things easy breezey, right? In some ways. But going home to visit can get crazy- trying to fit in time in equal-ish amounts with our two families, and trying to see friends keeps us so busy while we're there. Four or five days is definitley not enough time. So we are very, very excited to be there more permanently in about a year. Yay! And thinking about Josh being done with school makes me so happy. He didn't take any classes this summer, which was so nice. He goes back to the daily grind in just a couple weeks though. My days of being spoiled with so much time with him will end. Very sad.
Also what has kept us busy is this huge project of cleaning out and de-clutttering our apartment. Josh had been super hardcore about it and he's been working really hard at getting rid of every single thing he doesn't need. He is doing the
100 thing challenge
, except I think he is doing 99 things. Totally "one-upped" Dave Bruno. At first I was a little hesitant about his seemingly hair-brained scheme of living so minimally. But.. I'm totally on boared now. We've gotten rid of TONS of stuff. Seriously, so much stuff. It's really amazing. And it feels so good.
So along with our attempts at minimalism we've tried to make our place look really good too. I made some pillow covers that I believe to be awesome. We also spent some of our birthday money on some sweet stuff at Ikea- new lamp, curtains, bedspread, side tables ($8) and sweet little lamps by our bed.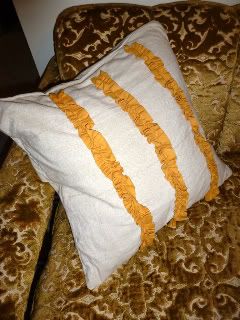 I was so excited to discover how to make ruffles!
View from the front door...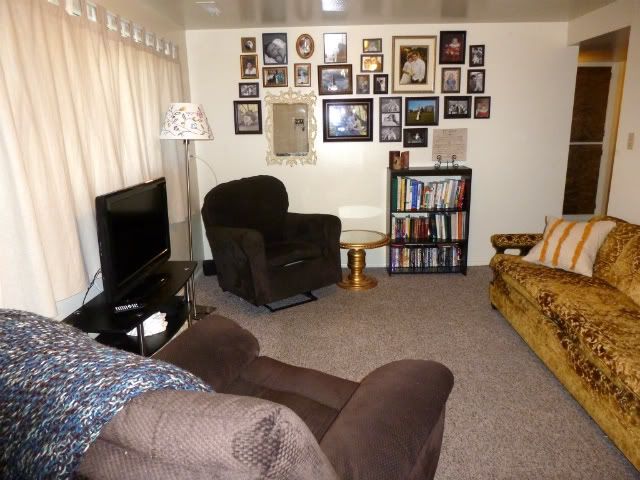 I just love the lamp shade. Super cute, right? Am I boring you guys yet?
Cute quilty bedspread from ikea. I love quilts. I want to use the one my grandma made us for our wedding present but I'm too scared to ruin it. But I totally want to learn to quilt someday.
And finally, I have to display the sweet lamp. I mean there's not much to it, but thats what I like. It's really cool because it's all one glass piece.
Yes, those are earplugs. Snorage does happen. And don't worry, somehow with my mom superpowers I can still hear Morgan.
Sorry if I bored you... kind of. But not really. Because this is some sweet shiz.