Hey. A few things.
Christmas was so great! It was completely awesome having my mom and dad here. They are so fun and loving and supportive and great. I'm sooooooo lucky. SO lucky. I'm glad they came all that way just to be with our little family. Morgan wasn't too sure about them at first- he's gotten a lot more shy lately. But I think by the end he was really warming up to them. He decided he didn't like them in his room at night, but other than that they got along so very well :).
Josh worked both Christmas Eve morning and during the night (Like, NIGHT night- 11pm-7am). So I would have been kinda lonely without my parents! But it's good that Josh was bringing home the dough. Time and a half ya know.
Anyways, the morning of Christmas Eve- when Josh was working- we went on a little walk in the canyon. It was great! I love taking morgan out into nature. I know he enjoys the change of scenery. I didn't really expect snow and ice on the walkway and totally wore the wrong shoes- my stylin' rider boots have NO traction- but that's ok. I made it somehow. It was a beautiful place with a frozen waterfall and a little frozen pond.
I loved seeing my dad show him everything. It was the cutest!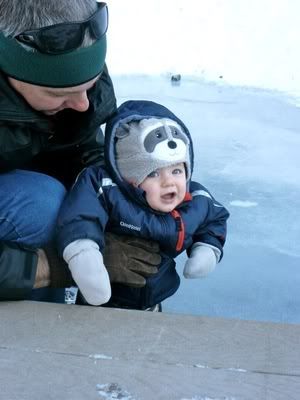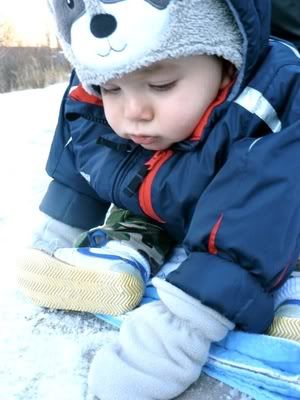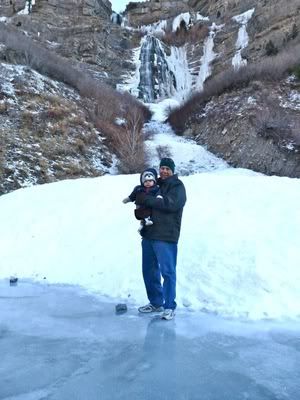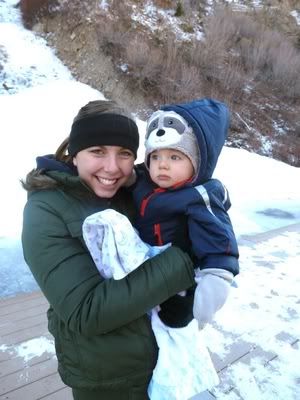 Christmas day was relaxed and wonderful. Church was filled with great musical numbers and Morgan was so good. We didn't open presents until both Morgan and Josh woke up from their afternoon naps. Everyone was SO generous with us... we really have some kind and amazing people in our lives. Morgan wasn't as into all the paper and boxes as much as I thought he would be. He was actually more into the toys! We didn't wrap the little wagon full of blocks we got him and he went right for it and totally wasn't interested in anything else. Not even the santa hat that my mom put on his head! Usually he would pull that thing right off! But he didn't even care because he was so into his toys. I did HORRIBLY at taking pictures of the morning... sad! But I know that I was enjoying the moment. I was so excited for him to see all his new toys. He got this awesome wagon/walker thing the he can push around while he walks. He does so well with it- I HAVE to post a video with him using it soon. It's so cute to see him walking with it. He's been doing great walking around wherever he wants in his other walker now but this one is different because it takes a lot more strength and balance. He's so close to walking by himself, it's scary!
AND JUST LIKE 10 MINUTES AGO HE STOOD BY HIMSELF FOR A COUPLE SECONDS! Ah!
Here are the only pics I took of the morning...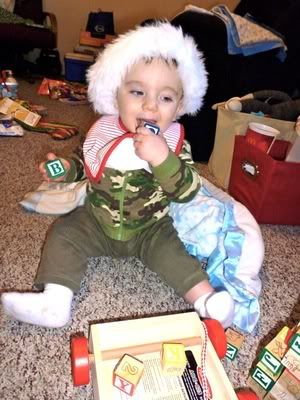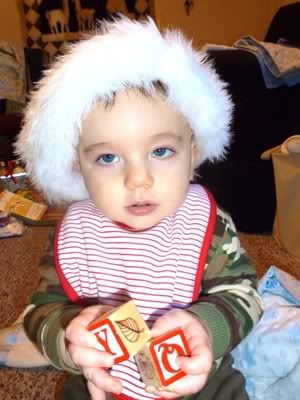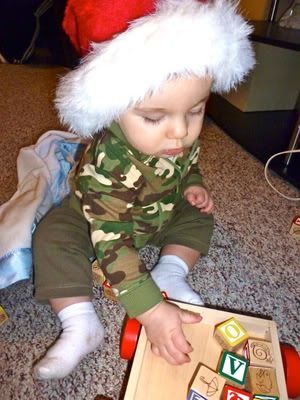 Uh, let's also point out that Morgan turned ELEVEN months old today!!!! Whaaaat?!
Ok I know this is getting long! I better stop now. I hope everyone had a lovely Christmas and a Happy New Year!