Mmm fall. It is so delicious. I sure wish it lasted longer. I really, really, do. Beautiful colors, yummy food/lots of baking motivation, and cardigan weather. I'm quite partial to cardigans.
It's fun to go out and fun to stay in. I like that.
We got to hang out with our awesome friends the
Senneff's
yesterday. We are lucky to know such cool peeps. We went to a pumpkin patch. I love going to pumpkin patches- I think because it's just one of the most fall-ish things one can do.
This one was in Springville, right by where the Senneff's live, so we got to walk there. We had a lot of fun.
One highlight was some furry friends. They were seriously cute. Every pumpkin patch should have a kangaroo, right?
Don't mind the strange man distracting the kangaroo from a baby who has never seen one before, and ruining a great shot...
Some donkey nose picking action:
Another super cool thing was a giant box of corn kernels. Like a sandbox, but a corn kernel box.
Some Joshie legs-
This would have been SUCH an awesome shot if I didn't look drunk. Or something.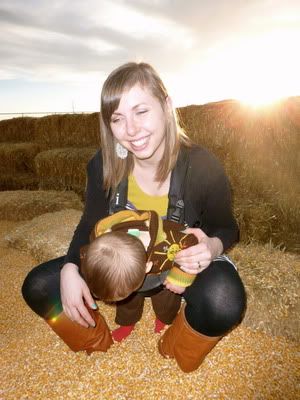 Morgan was very intrigued.
An excellent photo bomb by Tyler:
And you know with some pumpkins and bales of hay, two of the cutest babies in the world, and Erika and I being the moms that we are, we had to have a little photo sesh.
Here are some of my faves...
We picked out a nice little pumpkin. Morgan loved touching the it- something new and exciting.
Morgan was SO wiped out by the end of it all he completely zonked out in the carseat on the way home- which he never does anymore. He has to be mega tired to fall asleep anywhere besides his crib these days. He went straight to bed when we got home, which was amaaazing because it was like 9 something. And that hasn't been happening lately. It was so great.